As it is with a marathon, authorship is a long-distance race, not a sprint. Today, at CLC Kenya we are with Anthony and Damaris Muchiri for a water stop we call Book Launch.
In marathons, water spots are usually at every 5kms, resulting in 8-12 stops for a 52kms marathon. Stopping for 10 seconds per station results in 1-2 minutes of added time, but the loss of stamina due to dehydration would add much more. So join us on this water spot to celebrate with the authors of I Set Foot as they talk about their book's journey. 
Anthony and Damaris Muchiri are born again Christians. They are married (grab a copy of the book to read more about their adventures) and are highly blessed with two girls, Sarah Muchiri and Esther Muchiri (Princess and Queen). 
Let's dive into it!
HOW OR WHERE DID IT ALL BEGIN?
Growing up, I enjoyed the great outdoors more like all boys and girls would and especially being a scout. Scouting got me into official night outs at a very young age.
While in class seven, I got into a boys accident (makeshift car) that resulted in me breaking my fifth digit right finger (small finger). At the time I didn't take it seriously to avoid too much laughter and ridicule from the boys. I also had to hide it from my parents but by day four I couldn't hide anymore – both the pain and swelling were too much for me to bear.
I was taken to hospital and then in a flash was admitted and booked in for surgery. Please note that I didn't receive much help from the boys and I really had to deal solo.
After surgery it took more than seven months to regain the use of my right arm, all this time having to travel to and from hospital mostly by myself and in buses/matatus. This is how I started setting foot – not by choice but through the need to save my finger, arm and hand.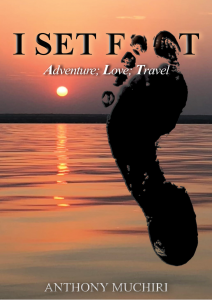 Lovely Cover. Stock photo?
No. I took the sunset photo in Lake Turkana from the Eliye Springs side of the lake while on a sunset boat ride.
What did you learn from your childhood accident?
The incident back in class seven made me realize that people are not keen to help when others are in distress and especially if it costs them to get from a comfortable position.
So I grew up always looking out to help people. This got me into my life's passion for rescue and more so water rescue. I have since studied Disaster Management and went on to be an international lifeguard coach with the International Lifesaving Society (ILS) which am a proud member.
I did manage some big disaster in the county while at the Kenya Red Cross as a manager in the Disaster Department for ten years. My greatest achievement while at Red Cross was managing the Post Election Violence (PEV) and it's aftermath (a story for another day).
I did set up the Eldoret Show Grounds IDP camp, then people were pushed out and I set up the Afraha Stadium IDP camp. This was followed by more pushing of IDPs from the north towards Naivasha where we set up the Naivasha Stadium and Kedong Ranch camps.
Please note all this for me was setting foot
and better still helping which by now you all know is a passion.
How many places have you set foot in?
We are still setting foot. Off my head probably about forty.
Come set foot with us!
So why "I Set Foot"?
Being travellers, my wife and I are just two pillars that agreed to come together to lift this beam called family.
We are very different and it attracts us in a great way. We disagree to agree is our place. We struggled to look for places to visit and especially the fact that "Wakenya" we don't review places and when we do half of the time it's complaints.  With no relatable reviews by our own people and no books on travel by our own people, we continued to struggle to find good destinations. On our part, we also didn't review the places we visited
Enyewe "nyani haoni kundule."
It's in being different that we are able to get the most out of our travelling. Damaris likes museums and so in every place, we land we are looking for one.
I love the water and we are always looking for big water bodies – oceans, seas and even swimming pools.
What's the book about?
Our book really features our life. We never journaled (very bad of us) – if you can, always journal to self and store on emails for future reference. 
From how we met to the honeymoon, our love for the great outdoors and at best the bonding that comes with creating family memories through travel.
The book is also all about demystifying travel and that anyone can do it. If you just put it in your mind and allow it to bug you, it will manifest!
Our advice is…
Travel solo
Travel with colleagues
Travel with family
Travel with extended family
Shemeji will love you for such.
The book is for couples too. We all know hotel rooms hits just hit differently. At least I know!
Why make people struggle to look for photos to put on eulogies? Travel, make memories with your little ones, take photos like tourists and give us content for that last story! 
When you travel, you also get the opportunity to show the man in you when stranded in a foreign countries with language barriers and your family is looking at you excited not knowing "hata wewe haujui." You are lost but you are the lead! Mara that-that you discover google translate, talk into it then give a stranger your phone and let them talk into it then alas, "Dad is a magician."
Everyone should buy for self, gift a couple, gift a teenager, gift your pastor, gift your juniors at work or a boss. Let our people own the world by setting foot
Our forefathers had it spot-on
KUTEMBEA KWINGI KUONA MENGI
What does ALT from your book mean?
Adventure; Love; Travel
Whenever you touch the ALT sign on your keyboard or see it, remember Anto Coaches book #Isetfoot and share and sell on my behalf.
Have you ever had near misses with flight?
It's seasoned travellers that are usually caught up "kiherehere tu" I can make it, I know the drills.
Truth is, it just comes down to poor time management as Washington Blessing's book Its About Time will let  you know.
We seek serious adventures like Gorilla tracking, Bungee jumping at Victoria Falls, Canopy walk in Rwanda, desert hikes, sand dune bashing among others.
If humans are involved we are part of the species #kwani.
Many are the times that we got stuck in situations that you pray and also pray for good burial and send off. You can imagine being lost at sea (hapa tu) Lake Turkana. You can't see the shore, the weather has turned around and your local guide/captain says "Hii mashetani sijawai kuona kama hii…" Two families of nine pax, five adults and four children. Being the shark that I am, I can swim to survive most waters lakini utaambia watu nini!
Everyone got tired and just blacked out but the rescue man in me couldn't even wink. I was thinking, "Who would I save first if we capsized? Whose life vest (personal floatation device) is not well secured? Is the captain a good swimmer or just a boat rider?"
It's in moments like this that you appreciate God on a different scale. When Vincent Ogutu in his book Escape talks of overcoming temporary situations and traps in life, it's so surreal for me that it just took the mind to overcome the season.
You are such an entertainer! That looked risky.
It was. Given the many near misses and how we overcame difficulties over time, the deep need to help others avoid the same compelled us into putting down our experiences.
We all have a bug that says I need to see the world, I need to tembea Kenya, I need to set foot
Remember this, no one can travel on your behalf!
During the pandemic, we are all locked in and it has just occurred to people how limiting our spaces really are.
You can't travel virtually. If that was the case, then I have done the highest bungee jumps in my mind, and I have done my sky diving goal!
The secret is that you have to be out there and connect. You need to get the experience of getting frustrated by airport security and enjoy joking with immigration officers.
Antony if you owned a tour company it would be fully booked post-COVID 🙂
We are working on something… Watch the space!
Could you share an excerpt with us? 
Chapter 18 (an excerpt)
Like a lamb to the slaughter, I was half-pushed, half-led to the edge of the bridge. The gorges and river were before me but I didn't really see them. On a normal day, I would have noticed the acacia trees that dotted the plains beyond and heard the River Zambezi's powerful whistle. But this was no normal day.
"Stand up straight brother!" I was ordered after I reached the edge.
"Stretch out your arms!" I did so. It felt as if I was readying for crucifixion.
"Take a deep breath!" I did so. Was it my last breath?
Then the countdown began.
Five! I saw my precious mother's face. She was smiling and saying something that I couldn't hear. Four! I heard my beloved wife Damaris saying – I do. It was our wedding day. My father was… Three! I rubbed my forehead on my daughter Sarah's forehead and hugged her. She smiled and.. Two! I saw my father's stern, calm countenance as he opened his mouth to say something…… One! I saw Jesus.
I was now flying like a bird. No, I was dropping like a missile. One that could drop from Mars to the earth in a mere second. For a moment, it felt as if my heart stopped beating. Like I was in space, where no sound lives. I lost sense of who I was and where I was. I was just there. Deep in the embrace of atmospheric nature yet removed from everything, including myself. There was no tomorrow or yesterday, just the present.
More excerpts are captured on the website
www.anthonymuchiri.com
My most exciting concept of the book is that you describe all the places you have been in such vivid details. I almost feel like I have been to those places, one, and two, I know what to expect if I travelled to those places.
That is the purpose of the book – to inspire readers to travel and demystify the myths and misconceptions that go around concerning travelling. 
Great! Do you do church when you travel?
I am a Christian and I will urge us all to be defined by God.
Whenever we travel we seek out all manner of churches just to ensure we don't relent in our spiritual walk. We've been to churches in Dubai, the US, Rwanda, South Africa. As a member of Bible Study Fellowship (BSF) I know it's in being grounded in the Word that a Christian's journey in the Lord can be grounded.
The church buildings or worship are great, but the COVID season has made it crystal clear that we are indeed the church. My Reverend, Calvin is a big believer in Home Churches (what we call house units).
How can one start to save for travel when life has so many responsibilities financially? Is it an issue of prioritizing?
I recommend five ways: 
1. Pick a destination in mind
2. Fantasize about it
3. Get photos of the place, research on it and let all people around you know about it.
4. Seek an exchange family to host you – that's one of the cheapest and best versions of travelling. You actually connect better with the culture.
5. Join a travel Facebook or WhatsApp group or club. Wanderlust on Facebook is a good place to start. 
Follow avid hands-on travellers on Twitter and other social media platforms. I am a member of World Ventures and I use their best packages.
Saving to travel is great just don't let it limit you.
Think inside the box. Yes, work with what you have and seek your own God-given solutions. Thinking outside the box limits you from taking action.
And finally, which is your best travel destination in Kenya?
Turkana. Lake Turkana is a virgin land. When the tour company happens it will focus on Lake Turkana.
Why Turkana?
Let me take you to Turkana just on graphics! And see why you all need to one day visit the place.
Wow. Congratulations Anthony and Damaris. Adventure galore and sounds very interesting. How much (in %) in your book is about Kenya?
35-40% of our book talks about Kenyan locations. 
Based on your book, are there viable opportunities for partnership with Brand Kenya/Magical Kenya/Msafiri/ Tourist Board etc to market the country locally and to the world through your book?
Through the book am not certain. If a consultant looks at it am sure we can figure a way out.
We are doing our bit through the book to the best we can to represent +254. We are open to further conversations, deliberations and explorations with the said organizations.
My regret is that the Kenyan tourism market is skewed to popularize only beaches and animal safaris and the rest have no budget. There is much more in Kenya than we have explored. 
Give us Your Closing remarks?
I believe always that life it's all about setting foot
.
Be it in business, career, family, relationships or even just wandering out.
We joke about "marking territories" but isn't that setting foot?
We share with pride our escapades to different parts of the country and the world and yes that's setting foot
.
So I set foot is a continuation of life as it is. The great poet Kahlil Gibran says,
"We wanderers, ever seeking the lonelier way, begin no day where we have ended another day; and no sunrise finds us where sunset left us. Even while the earth sleeps we travel".
Enough said, and now to imagine that he wrote that in 1923!
Setting foot
is a great to start to discovering self and the world.
God blessings to all.
Keep safe
I am grateful to God, my fellow authors, Muthoni Mercy and the entire CLC Kenya team and to Pastor Achoki for the foreword, I got you!