Back On My Feet

The 'How-to' Manual for Single Parents
The 'How-to' Manual for Single Parents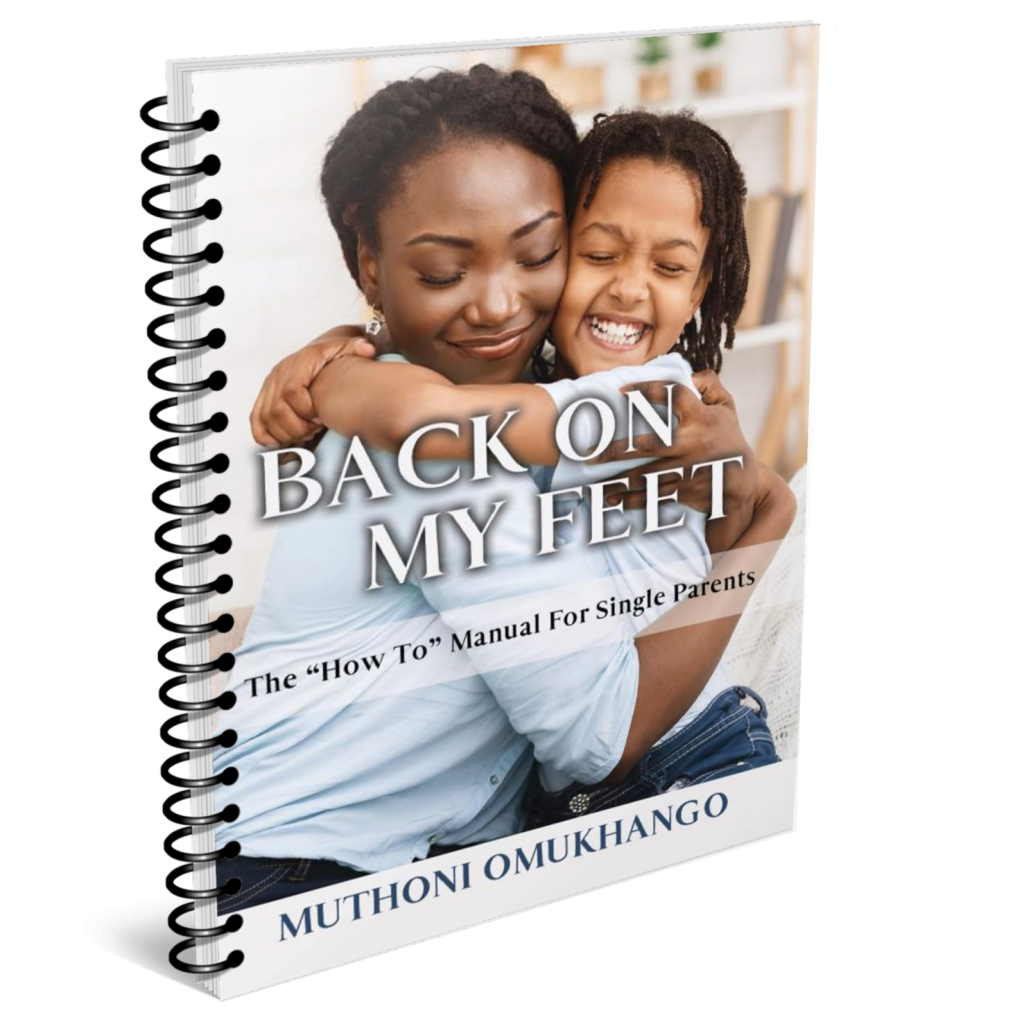 Tragedies and traumas present the enemy with the perfect tools for entrapment, having as it were many of his victims in an Alcatraz of sorrow. This hopelessness has led many to resign to mere survival, being reduced to zombies. The problem is compounded by the fact that these victims are parents, which means, the legacy of the enemy easily goes on to the next generation. Uninterrupted, this misfortune is normalized from one generation to another, leading such persons to conclude that such is their fate.
In this program, Muthoni Mercy offers this much needed interruption by candidly considering the plight of single parenthood, while masterfully weaving personal experience with research and the encounters of others, in order to shine a light of hope. This work brings with it a beautiful blend of spiritual and psychosocial counsel, formidable keys in breaking free from the enemy's hold. The book is both a wide sweep and deep dive of the subject matter (single parenthood), while 'keeping it real' to ensure the content is not reduced to meaningless theoretical jargon.
Undoubtedly, this is a companion tool in navigating single parenthood and a sure reminder of God's promises to you – keys to silencing the enemy's selective reminders of mistakes of omission or commission. To this end, this book is recommended for all; victims, perpetrators, and the generalists, for in its pages are prescriptions that will be of benefit to the reader, directly or indirectly.
As you journey through the process of this treatise, may you be lifted above the voices of condemnation, be loosed from the ties of the past, and be thrust into the glorious liberty reserved for you in Christ Jesus. As ably stated in this book, may you be infused with new life and enabled to journey towards the realization of your glorious God-ordained destiny.
Here Are 10 Amazing Topics to Empower Yourself
How did we get here – The fall (teenage sexual sin & adult sexual sin) or Tragedy (separation, divorce, death of spouse & rape ordeal)?
This self-evaluation, if done honestly, will help you become more accountable to God and to yourself as well as empower you to take responsibility for your actions. Use it as a tool for continuous self-improvement.
A Plan of Escape – after you have done all to stand, stand.
Your recovery journey will not be a matter of your standing firm on your own. We are part of a community – the household of faith.
Prepare to make a plan to get out of whatever situation and live a fulfilling life. 
From experience, I believe emotional stability is the core of getting back on our feet. 
This is not just for single parents, but for any person. We can start there, and progress on to other areas of life. 
Getting back on your feet financially can seem like a daunting task.
However, when you look at the alternatives if you don't, therein lies the motivation to get started on a plan to take you back to the road called financial independence.
Learn how to thrive and flourish in your current stage of life and if you wish to get married or re-marry, how to prepare yourself, your children and a spouse-to-be when the time is right.
It's been almost two decades since I experienced this type of darkness and confusion in life. Over the last many years, I have witnessed God's faithfulness towards my full restoration. I have had many battles and won by God's grace. I know that you too, can and will win the battle this season. God has already put everything you need for this season - resources, knowledge, relationships and godly people to walk with you through the dark tunnel to the other side. That's God's part.
Your part in this journey is to trust in Him and in the ways He has for you. You also must obey His instructions and follow in His leading. His instructions are not grievous, they are for your good and will bring prosperity to you, your children and future spouse (when you marry or remarry). My prayer for you is that you may allow God's commands and will to restrain you towards righteousness.
If you have this hope confidently placed in God, you will purify yourself, just as He is pure, holy, undefiled and guiltless. 1 John 3:3
You can go through the program cover to cover or just pick any topic that seems relevant to your current situation. May God multiply the wisdom in this book and make it implementable for you. And when you have finally overcome, remember to reach out to another sister or brother in their dark days, help them find the light of the Word of God and let's illuminate the world!
Equipping this Generation to Empower the Next!
Season 1 Parenting (Mondays) 
Authors, Books & Coffee Podcast
Season 1 African Christian Authors (Tuesdays)
Market Place Ministries
Season 1 Too Busy for Worship (Wednesdays)
Kingdom Business
Season 1 Making Kingdom Impact (Thursdays)
Back on My Feet
Season 1 The How to Manual for Single Parents (Fridays)
Hearing the Voice of God
Season 1 God's Knowledge to Cover the Earth (Saturdays)
Making Marriage Work
Season 1 Marriage/Remarriage (Sundays)