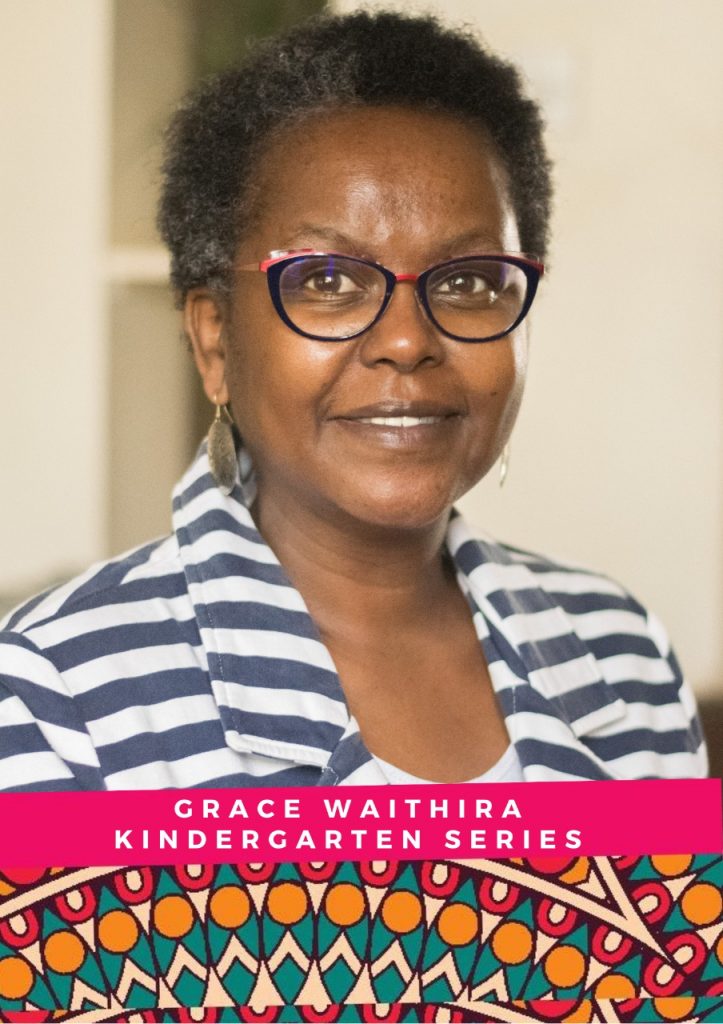 At CLC Kenya, celebrating the release of an author's book with a launch is very important for many reasons. One of them is that this offers us an opportunity to connect the book to our local communities. It is a very enjoyable, positive event and a great way to kick off the start of great impact to our readers. This is one of those moments and more so special because this is our first series release touching the lives of the little ones. 
Grace Waithira just started this journey of being an author. She is still trying to wrap her head around this new title as you can imagine after 25 years of being called a teacher.
It's a double special moment because it's already tasking to write one book, and so developing a curriculum series requires quite some passion, understanding of the field and time commitment. 
Let's join in the celebrations! 
Why write a kindergarten academic series?
The books are inspired by our African setting. It is almost impossible to get a book in Kenya to read to our children in the early years that they can relate to. Almost all ECD books are from the Western world and do not include African children.
At the beginning of each language book, there is a story related to the lessons of the book.
What inspired you?
I was pushed by little children upcountry where I was invited to speak to Class 1 students. When I greeted the children in English, they started giggling and I was stunned. Upon asking the class teacher, she confessed that the children don't understand what I'm saying. You can imagine that from a basic greeting "Good morning children" God used that experience to reset a button within me.
I saw the urgency and since then, I couldn't sleep without completing the books. I tested the books in that school and saw immediate changes. Children were reading and it was very exciting for me, for the teachers and for the children as well. From then I decided to focus on the early years because this is where education begins, yet in our country we couldn't find resources to assist the eager children. This has been my push.
What's different from all the other kindergarten books?
Have you ever wondered why children get confused when writing letters b and d? This common problem starts at the introduction of writing letters.
Did you know that letters of the alphabet should not be introduced in sequence but in groups that follow a specific direction?
Twiga Books cover these foundations so children's handwriting is not cumbersome. I have met children at ages 6, 7 and 9 years whom I've had to insist we start from pink series. Of course they move fast because they are older, but in the end they love to write and become confident when presenting their creative writing stories.
What I'm saying is let your child show you what they need despite their age. Sometimes it's mental math. Observe your older children and they will show you areas in their foundation stages that have gaps.
It's usually easier sometimes for us to blame foundational gaps like writing p,d,3,E in childhood disorders like mild attention deficit disorders, autism, hyper activity etc to normal kids instead of addressing this issue as a learning gap.
In the years I've taught, I have encountered so many parents who come to us with that diagnosis. What surprises me is how quick they conclude and agree with ADDH & Autism diagnosis. By God's grace many children have reversed these diagnosis. With patience and prayer, parents have been shocked at their children's amazing progress. My conclusion, parents PLEASE give your children a chance. They will shock you.
How has the authorship journey being for you?
Through writing these books, I've met talented Kenyans. I know without a doubt, we can meet the needs of ECD children without importing learning material.
I would like to also acknowledge the support, guidance and help CLC Kenya team has accorded me. May the work of their hands continue to be blessed.
How many books are they in the series?
So far 25 books. The books are colour-coded and numbered so it easy follow from one stage to the next. First stage has 8 books in Pink Series, 9 books in Blue Series and 8 books in Green Series. A child needs to strat from Pink, to Blue, to Green and more will be coming soon. 
How long does one level take a child to cover?
An entire series should ideally take one year with targets for the learner to achieve at every stage. What is important is the time taken to engage a child during this sensitive years. Once the child gains understanding they will manage the tasks required.
Are there support materials for the teachers and parents?
Yes, you can find resources from our YouTube channel Twiga Books Ke where we share useful videos to guide parents on how to teach their children with ease. 
This is great Grace. People who critically look for their space to make a difference and impact inspire me a lot. It's terrible to have fed our children with western materials. This has led to the current situation today of   "learned helplessness " where we always look to the west or east for solutions -  even to the simplest of our problems. Ngugi Wa Thiong'o calls it colonization of the mind. Your book series gives our children courage to look within and around for solutions. 
Julius Mwebia, Author, Conceive Achieve 
I agree 100%. It's time for Africans to have African solutions. We have what it takes and we can do it!
How are you reaching readers?
By being active on social media to get the word out. With the explainer videos, we can demonstrate to parents how useful these books are to their children.
We are also reaching out to parents I have interacted with in the past and women groups to accelerate our penetration. 
These books are relevant now because both the parents and children do not have to feel stuck at home due to the pandemic. 
I have also noticed that KICD together with MOE are offering online classes for Primary and Secondary school. Nothing is available for ECD, so we plan to enter that space as well?
Book Excerpt (African Stories)