The Power of Solitude
A Silver Lining During A Pandemic
Through this book, Dr. Pamela has explored the discipline of solitude and the power there in.
We are born and bled in a society that views solitude negatively and as a result we fill our lives with people and time leaving no space for alone-time.
Many of us cannot spend as little as thirty minutes alone because it is scaring. After you go through this book, your eyes will be opened to the great
benefits of solitude. This book was conceived and written over the Covid19 lockdown season.
You will learn;
 How to tap your strength in quietness.
 Biblical examples of solitude you can model;
 Psychological and spiritual benefits of solitude;
 How to schedule solitude in your life in the amidst of a busy schedule.
 Solitude in navigating uncertain times.
Meet The Author - Dr. Pamela Kariba Muriungi
Dr. Pamela Kariba-Muriungi is a Faculty member at Machakos University's School of
Education. She holds a PhD in Special Needs Education from Kenyatta University and is the
Chairperson of the Department of Educational Psychology &Special Needs Education.
Dr. Pamela trains under-graduate and graduate teachers to teach children with disabilities by
focusing on their ability and potential and not on the disability.
Her mantra is; 'Everybody can
learn".
She has a vast experience in teaching in higher education for the last 23 years,13 as a
teacher trainer in Teacher Training Colleges and 10 years in the University. She has a vast
experience in research with over 10 publications in refereed journals. She is a member of Society for Educational Research and Evaluation in Kenya. Her education background has given her a
broad base from which to tackle many topics.
Dr. Pamela is a born again Christian, a seasoned preacher of the word of God and a Sunday school teacher for over 30 years. She is passionate about children ministry and is also involved in youth mentorship and women ministry in the church.
She is an ardent believer in family. She is married to Phineas Muriungi and a mother to two grown up children, Edwin and Joy.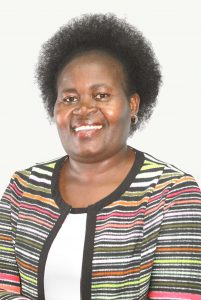 I gave my life to the Lord in form 2. I was already teaching Sunday school from when I was in class 8 and so I thought I was born again until that time in high school. 
I titled my book The Power of Solitude because if embraced, solitude is a very powerful tool for growth.
I was inspired by Elijah's longing to be alone with God. Then it coincided with the Covid19 season when people were struggling to stay at home.
It's at this time that I saw a gap which the book is addressing – alone time has benefits.
My target audience is believers and non-believers alike. We all need to embrace solitude.
What kind of research did you do, and how long did you spend researching before writing The Power of Solitude?
I have done extensive research on issues in education. I took like two months to read around solitude. I continued with the research even when I was already doing the manuscript. 
To aspiring writers, keep the focus even when you feel discouraged. Sometimes you have to encourage yourself like David and daily remind yourself why you are writing.
Also keep praying and I have seen God encourage me even when I felt like stopping. 
My experience with CLC was good. However, towards the end, I almost felt fatigued but I think this is normal in writing.
Book Excerpt - The Power of Solitude by Dr. Pamela Kariba Muriungi