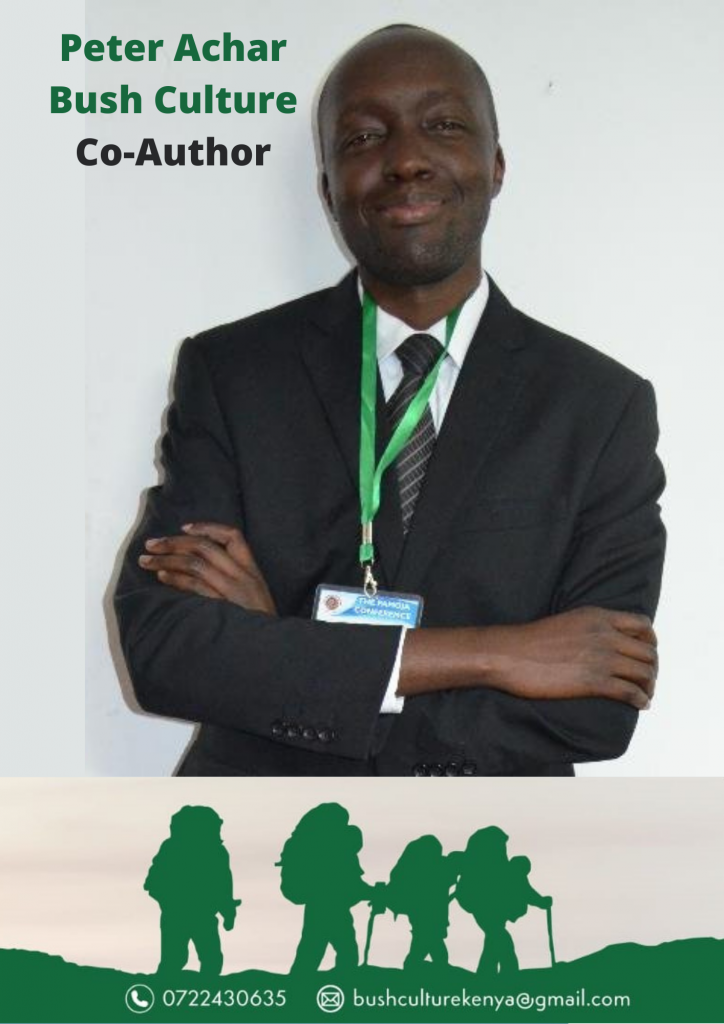 As with launching a rocket ship from the Earth's gravity pull, a book launch is something we celebrate with equal magnitude at CLC Kenya because it gives us a platform to bring people to faith and maturity in our Lord Jesus Christ. 
Today we chat with Peter Achar and Eunice Mwabe, two of the team members at Bush culture that has produced the devotional, Daily Pursuit. Their passion is to enable people pursue God through the daily reading of His Word and this is what inspired them to develop the daily devotional.
Peter Achar's collaboration with CLC Kenya has also included development of people through Noble Thrust and a monthly forum called Posted through which they initiated the "Strategic Readers" – an initiative to develop a reading culture among young people in Kenya and beyond.
Who or what is Bush Culture?
Bush Culture is an initiative whose tag line is "securing the future generation" : we purpose to bring young people to their full purpose in God by organizing initiatives that enable them to understand the place of God in their lives and the value of deep relationships, hard work, and character building.
The Daily Pursuit is one of our many initiatives at aiming to get young people to read the Bible regularly and effectively. We believe that one does not know how to exist except by reading God's word, and we try to serve as best as we can in giving young people tools to be able to do this.
This devotional is the first in a series that aims to capture all books of the Bible, to allow for a holistic study of the word at a young age. 
How are you feeling with the launch of the devotional?
We are more than excited about the launch, and we are thankful that we get to share this labor of love with all our existing and potential readers. 
This devotional guide is one way we are seeking to help all to abide in Christ in order to remain fruitful because it is a call to daily interact with God.
On the target audience, is it a book for youths or for all Christians?
The devotional is suitable for all ages both young and old in helping them develop and maintain the discipline of studying the Word of God.
It's relevant for ages beginning from the high scholars( actually even upper primary can benefit) but our interactions have also indicated that many adults struggle with consistent study and meditation on Scripture because of the foundations and so even adults can benefit.
It can be very good for joint family and individual devotion as well.
How did you manage the multi-authorship process?
We have appreciated the power of collaboration given that we were seven authors, we got very good support from CLC Kenya and were guided by the Patron of Bush Culture Kenya.
So "collaboration" is a value we pick from this process and seek to continue upholding.
What informed the name "Bush"?
Bush Culture came about because of the heart behind the initiatives. The founder, Mr. Emmanuel Ayiro, is an avid outdoors man, and a core component of the initiatives we have for young people include camps and other outdoor activities. Hence the term "bush" in a lot of our naming and branding.
There is something wonderful about being outdoors and organizing team building activities, which was the starting point for most Bush Culture initiatives. It's a special part of our journey, and is reflected in the name.
And yes, the name has no relation to Alliance High School 🙂
The name Bush Culture brings to my mind these young guys I see seated on side walks chewing on green leaves (muguka, miraa) from the bush. How can we reach them to change what they feed on? Considering that they spend so much time together!
Valid observation and important target group. Practical experiential learning has proved to be an effective tool for reaching such and they are truly a concern of Bush Culture as well.
But the "bush" here is not about chewing such but concerned to help them stop chewing 🙂
We thank God for this initiative @Bush Culture and we pray that it will go all the way down to the grassroots.
How do generational transfer sessions work?
Generational transfer sessions are deliberately organized interactions between older more experienced people with the young people on identified topical issues or general life issues.
These are normally done during the camps and specifically designed outdoor activities or at times indoor gatherings. They have many times led to the development of productive mentorship relationships.
How much of the Bible does the devotional cover? The whole Bible?
This first volume is from Genesis to 2nd Kings. We intend to enable the study and reflection of the entire Bible through 5 volumes. So it is about quality interaction and not just quantitative reading to finish.
CONGRATULATIONS 👏🏾👏🏾👏🏾to Peter, Eunice and the Bush Culture team. We welcome the new baby(book). May the Lord bless the fruit of your labour and may many homes embrace this child as God's Word continues to spread everywhere.