Introduce Yourself
My M-PESA name reads Timothy Gitonga Micheni Mutani. My street names vary from Richman, to Sheriff to Kiongozi depending on who and what. My publishing name is Gitonga Mutani.
How Has The Publishing Journey Been Like?
This journey has been a long one. I cannot express the feeling in words. I submitted my manuscript on the 19th of April, 2019. But my book's Project Manager, Muthoni Mercy was kind enough to limit my expectations. She advised me that no matter how good a writer I was, a book project could take up to or more than two years. So after more than an year of walking together with CLC Kenya, we arrived here.
The entire team at CLC was awesome, we spent hours debating back and forth on the way forward. At one point my project manager (Mercy) and I spent 3 continuous hours on a phone call. They were so understanding even when I was expected to pay something and my finances were not coming through they held my hand.
The CLC Kenya team is one in a million. They understood my naivety and held my hand. They are always helpful because they want all authors to succeed. CLC is a powerhouse of publishing – the small steps will add up to a flight.
How Are You Feeling Today?
The sweetness I feel today is a perfect end to a fulfilling journey. It's the perfect(est) birthday gift somebody has ever given me (my birthday was yesterday).
How Did Your Writing Begin?
I used to blog a lot in my past and one day I wrote a piece called, "the power of me." The response was overwhelming and that's how my readers demanded I write a book. That was in 2013.
"The power of me" would later translate into a mini-movement and is the birth of the book we have today.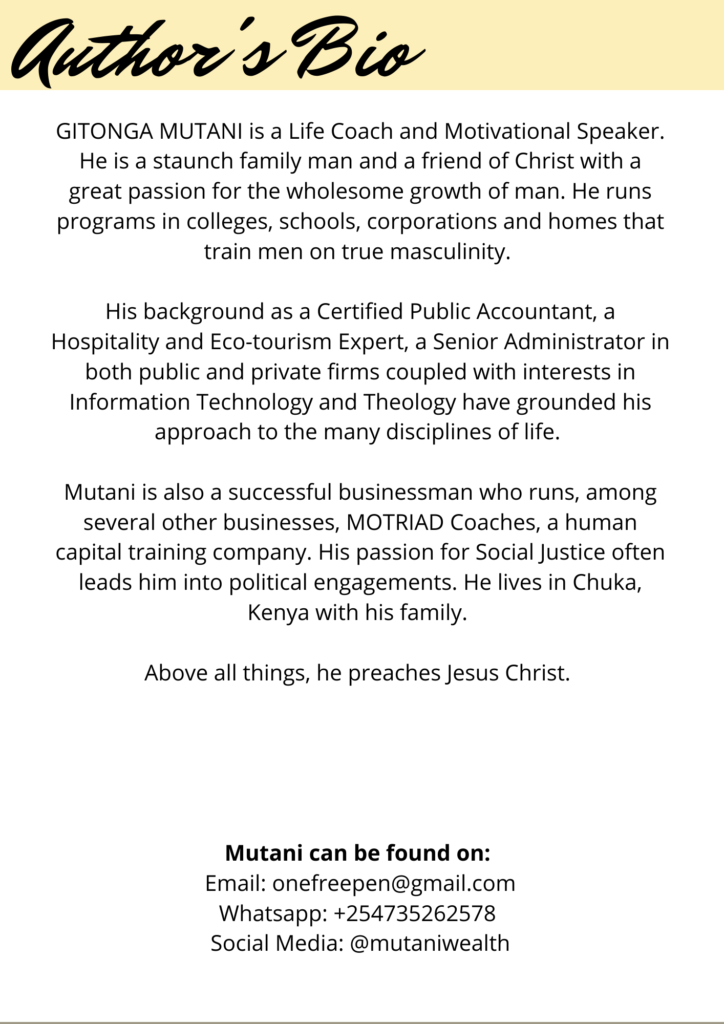 So what are you telling your son? just a tip of iceberg?
My personal struggles and experience from multiple engagements and a divine interpretation of the scenarios. Readers want assurance that you are human like them and have struggled and faced your challenges. This gives them hope that after dark it will eventually be sunlight.
In my various engagements, I realized a lack of guidance for the male species. In all sectors from school, workplace, homes, etc, men were left to their own devices.
In contrast the female human species experienced a larger support base in anything they tried.
I went back to the foundation and looked at how my father brought me up. We had long and deep conversations that formed the frame for this book.
This is a book that I want to speak to my sons and your sons even in our absence.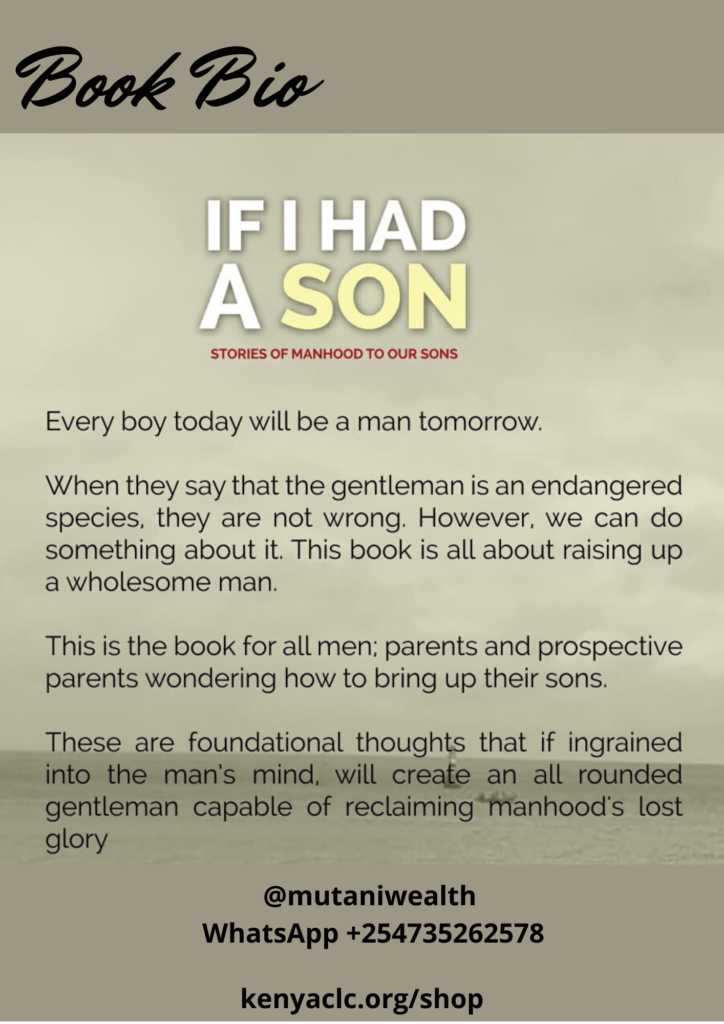 I am just curious, have you included how to raise a son in the various stages i.e toddler, pre-teen, teenage, young adult, and adult?
Yes, the whole book is a journey from a toddler through the different stages of life where the epilogue is actually something about retirement.
You need to write another one for mothers of sons so they know the "how to" raise sons.
Challenge accepted. I have been speaking to God about it. We're yet to come up with a proper sketch.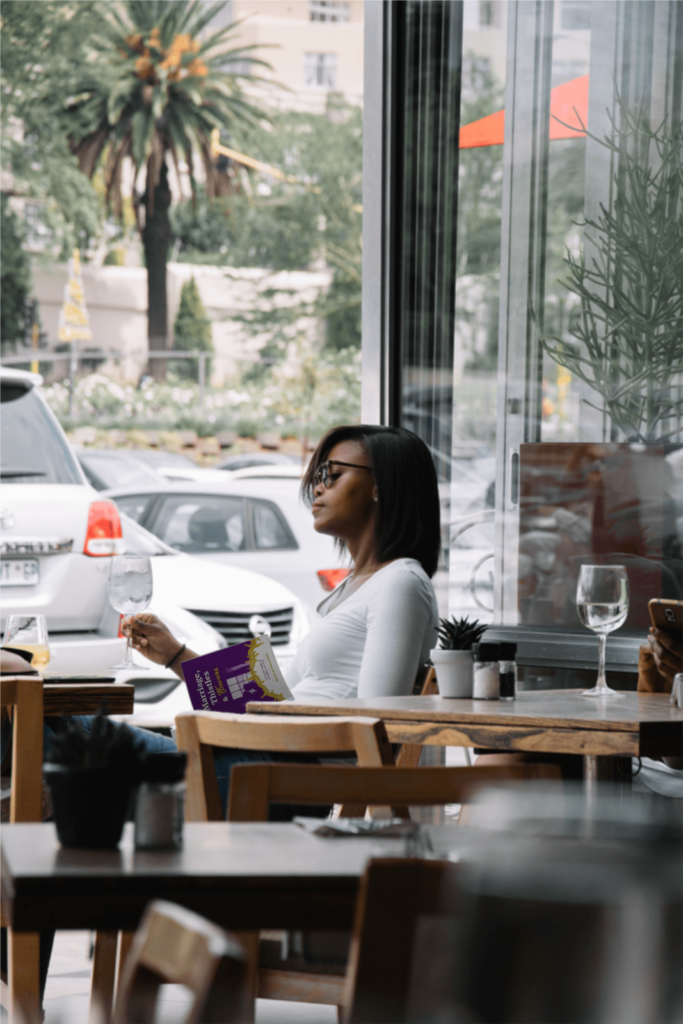 I'm also curious about the title, what made you come up with that title?
I have grown up admiring my father. (Very few in my generation and environment can say that). He is one tough gentleman. He caned us like the weather depended upon it. Yet found a way to teach us where we were wrong and what to do next. He taught me how to take a stand no matter how the world thinks, (and suffer fewer friends). Showed me how to be a gentleman (firm but fair). The way they relate with my mother to date, I have never seen him quarrel etc. In short I grew up saying if I had a son, I would want to parent like my dad.
I had decided to call the book "the power of me" a principle dad instilled in me (probably a future title) but then a revelation confirmed that we should call it "if I had a son" that way Every reader will get his or her own revelation from the book. It should preach for ages Like my father's words still speak to me even today.
I think its a great title that needs to be linked up with other organisations handling the boy child eg MAN-enough and MAWE and schools which are exclusively for boys! Have you thought of that?
I'm looking forward to sending the message about practical and positive Masculinity out there. This is the foundational level. I'm looking forward to growing it exponentially. I will be grateful if we can get it to a level where it shall have its own voice among the human race.
Have you considered men's forum like the one Barnie Achoki co-facilitates to talk about this topic and hopefully sell many copies of your book? One of the topics they cover is "saving the boys" and your book fits this.
I'm always ready to travel the world for the sake of manhood. I will look into this and follow up.
Do You Belong In Any Author's Group?
Yes. CLC Kenya's Authors Collaboration. From this team of authors, I got older men who became my mentors and have been checking up on me. This is getting back to the foundations. Which is what we look forward to achieve for manhood.
What's The Price?
The book hits the market at KSHS 890 and will be available on the CLC Kenya website, Jumia and Amazon.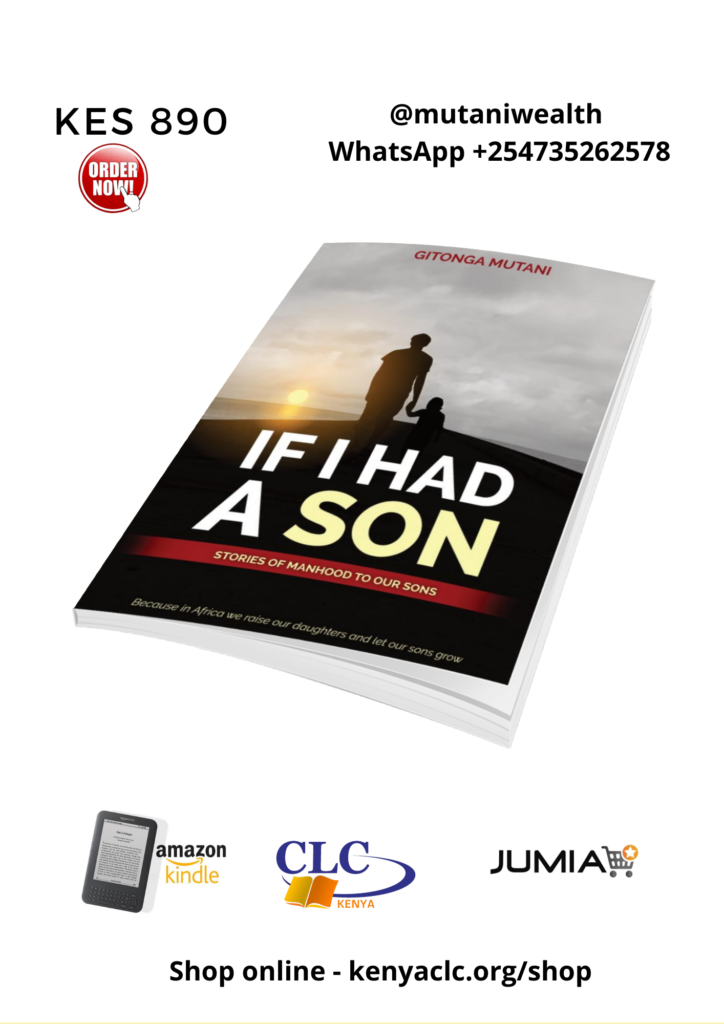 What's The Way Forward?
I hereby make a personal and passionate appeal for all to buy this book then let's dissect it. I'll be waiting for your response to keep on improving