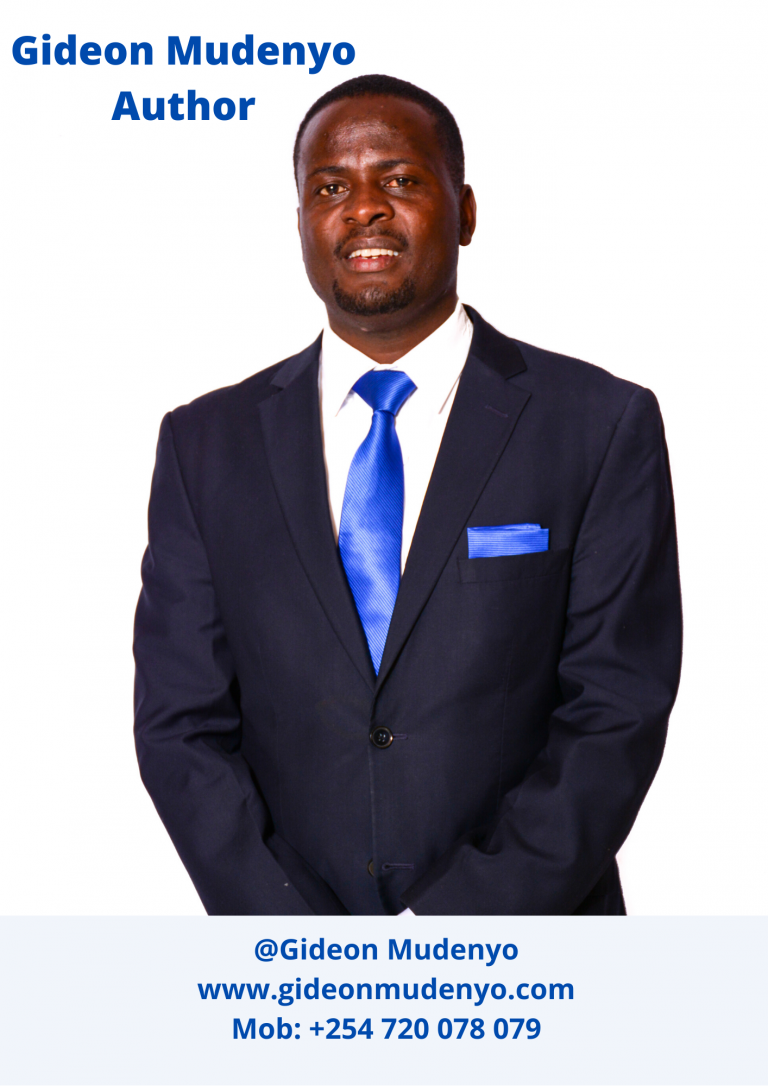 Launching a book isn't just about satisfying the status quo. It's about appreciating the journey thus far and setting the expectations right. Though it can get scary as is with any new project or baby, at CLC Kenya we are always excited to being mid-wife of a new birth. Most people refuse to write or publish their books because they're afraid. Sadly, the fear leads to unrealized dreams. 
Today we chat with Gideon Mudenyo, a believer in Jesus Christ and a servant in the Lord's service.
God has called Gideon as a pastor and teacher serving with the Blessed International Fellowship based in Eldoret and traveling all over to raise leaders.
Gideon has been married for the last 17 years to Evelyn and together they are blessed with four children Kate, Marlene, Melody and Gideon.
God has given Gideon the responsibility to oversee the Blessed International Fellowship in East and Central Africa, to chair Mudenyo Family Foundation, to be the Secretary for Eldoret Gospel Ministers Association and Direct Jesus Nation Leaders mandate among other responsibilities.
His passion is to be the true salt of the world and leave people's lives tasting better than he found them. By God's grace he has put down this timeless wisdom to help this and the coming generations find their position in God.
What's the book about?
As the title suggests, I want to encourage ministers of the gospel do better, and accomplish their God given assignments. When I find ministers saying they're tired and quitting the ministry work, I don't tell them I know you wouldn't have made it. However, when I meet a weary person, ready to give up, then I know that is the perfect time to encourage him. Being tired is the evidence that you have been working.
This book is looking to strengthen the tired ministers to help them finish well. It is fit for the working ministers, the tired ministers, the yet to become ministers and those who feel a calling but do not know where to start from.
I love the caption – weary, yet pursuing…
Thank you. The fatigue will come but should not stop us. We have to keep pursuing. 
Is the book based on your experience?
Yes, it explains some of our responsibilities. It is a book that is filled with experiential knowledge out of the 21 years service to the Lord.
Is it a book only for Pastors?
As you may see from the book bio, we all have the Kingdom assignment, The book will show you how to start and end well.
"Very insightful book, Gideon. I am sure people will benefit because ministry burn-out is real and knowing how to tap into God's faithfulness is going to be a useful resource for many. Congratulations!"
Eunice Mwabe.
"The first time I read this book to review the content during the publishing process in 2019, I was going for a mission in Mombasa where CLC Kenya partners to train Pastors and Church Leaders. I was en route and feeling very burdened and fatigued from ministry work. When I opened the book to read, I did cover to cover and could not stop reading it. I got to Mombasa very refreshed. The words in there are for sure impactful and alive."
Muthoni Mercy
Are you excited to launch the book?
Yes, I am excited about this launch. I am so grateful on sharing with you and the rest of the world on this timeless wisdom that will encourage you to finish strong.
I am grateful to the CLC Kenya team for the great work on the book. Their great sacrifice and advice have made this possible. I do believe they have a great reward in heaven.
I am personally very proud of your achievement and together with CLC Kenya, we are honoured to be a part of your journey. Onward and forward!
Thanks for the great partnership. I am really humbled by your help.
How does a normal Christian know that they are walking in their calling? It seems a little bit obvious that Pastors (five fold) are called to ministry work. How about everyone else not in full time ministry?
Thanks for the question. I love this statement "God is a father, a father has a family, and we are His family. There is a family business and the family business is people."
God called us to participate in His business which is people. God gives us peace in His service, which He tells us directly or confirms through the people we are serving.
"We are proud of you pastor and I hope to glean from your wisdom as I get my copy."
Washington Blessing.
"Bravo Rev Gideon and thank you for sharing your revelations with the Body of Christ. May your voice in the pages strike ripple effects through generations to come. Asante."
Aileen Mwende
Can we do a dedication prayer for the book? 
Precious Father in the name of Jesus, we are grateful to you for who you have been in the life of Rev Gideon Mudenyo. We are grateful for the insights, strength, encouragement and provision.
We pray that your special favour shall be on the pages of this book. We decree open doors for this Kingdom work. As we release the book to the readership, we speak favour and Grace that is supernatural to accompany this work.
To Rev Gideon, the Heavenly blessings and favour accompany you. May this masterpiece open doors for you, in the Precious name of Jesus Christ our Lord we pray. Amen
Prayer by Wilfare Malemo. 
Congratulations and jubilations Gideon Mudenyo. Glory be to God for bringing you this far. 
May the Holy Spirit guide you and all your projects until Lord Jesus tells you, "Well done Gideon."

Joyce Maina